Day Two - The Icelandic Horse

We had a good night's rest, and thanks to our pushing through the desire to crash upon arrival, we were pretty well jet-lag adjusted. We headed to the hotel breakfast buffet, which was complimentary - a very nice perk in terms of not just savings but convenience as well. It was interesting to see the difference between what we might find in a breakfast buffet in Baltimore vs. Grindavik. There was always a selection of cold cuts available, and baked beans as one of the hot items. Powdered scrambled eggs and bacon that was a tad more chewy than crisp were always available. Oatmeal, cereal, and a wonderful assortment of pastries (the croissants were fantastic!) rounded out the menu.
The big adventure for today was a visit to horse farm to meet and ride some Icelandic horses. The terrain that we had seen so far was like nothing we had seen before - volcanic rock with moss growing over it. Stark, alien, and yet beautiful in its own way. How could any horse handle such a rough landscape?
We started the roughly two hour trip to the farm bright and early to make it in time for our 10 am appointment. The route took us along the southern seacoast, with beautiful vistas at many bends in the road. As we headed north into the interior the land began to undergo a metamorphosis, mother nature working her magic over millennia to turn the craggy lava into fields and meadows punctuated with snow-capped mountains in the distance.
Upon arrival we pulled up to the stable and parked the car. The farm is immense - over 800 acres - and home to about 100 Icelandic horses. These are smaller stature horses but very sturdy and apparently relatively disease free. First brought to the island by the Norse, they have been bred over centuries with natural selection leading to animals well suited to the climate. The Norse respect and admiration for horses runs through the Icelandic attitude towards their horses. They do not allow any horses to be brought into the country, and should an Icelandic horse leave, they are not permitted to return.
We went inside and met our host, a young lady from Germany who clearly is very passionate about these horses. We got fitted for our riding gear and then met in the arena for a quick riding lesson. Even though we technically were not novices, having ridden Paso Fino horses before, we were glad to have the refresher since it'd been probably twenty years since we were on horseback.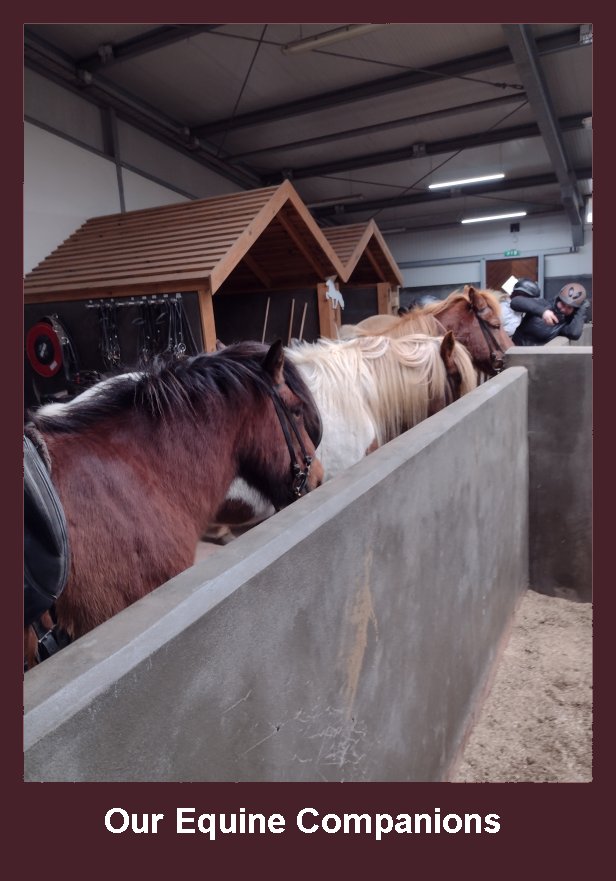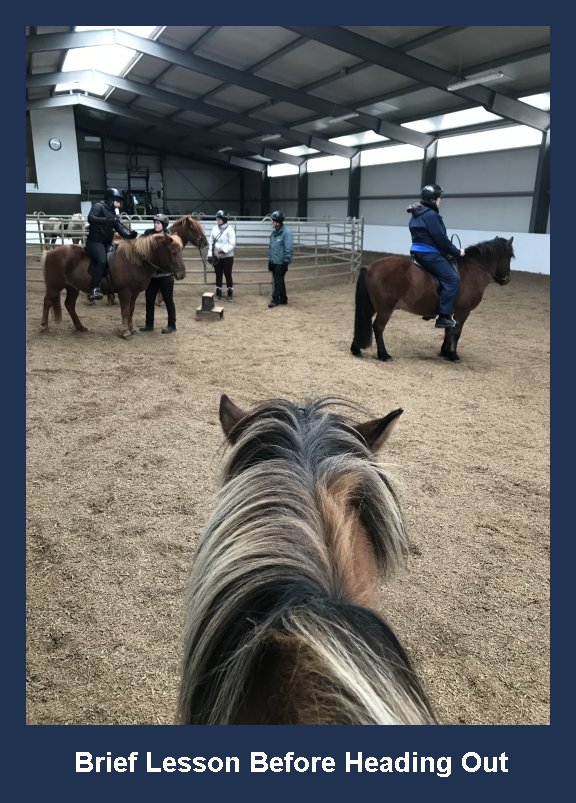 As we headed out into the field it was brisk but at least not raining. The horses were pros - they needed very little input from us as they followed the lead horse. The horse farm was expansive, with volcanoes punctuating the skyline in the distance.
A unique aspect of the Icelandic Horse lies in its tölt, a natural, fluid gait during which at least one foot always touches the ground. Once we got into the open, flat field our leader coached us into having the horses tölt. It was amazing, smooth and quick paced!